East Coast PGA 4 Golf Special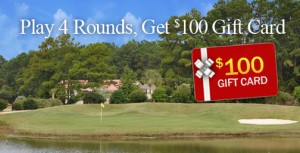 PGA 4

3/3 –
3/16

3/17 –
3/23

3/24 –
3/30

3/31 –
4/24

4/25 –
5/15

5/16 –
5/29


5/30 –




9/7

9/8 –


9/21

9/22

 –




10/23

10/24 –




11/20




As Low as

$228

$248

$209

$248

$248

$211

$

207

$273

$323

$216

As High as

$312

$332

$276

$372

$352

$312

$

272

$368

$439

$312
Participating Courses:

The Courses In This Package
Group 1 – Azalea Sands, Brick Landing, Diamondback
Group 2 – Black Bear, Crown Park, Indigo Creek, Eagles Nest, Masonboro Country Club, Meadowlands, River Oaks
Group 3 – The Pearl East, The Pearl West, Brunswick Plantation, Sandpiper Bay, Carolina National, International Club, Beachwood
Group 4– Cape Fear National, Crow Creek, Farmstead, Rivers Edge, Wachesaw East

PGA 4 Play Special

PGA 4 Golf Package Includes:• 4 Rounds of Golf at your choice of courses listed above
• Receive a $100 gift card per golfer picked up at the first course played from this group of courses on your itinerary and can only be used at any of these 28 courses for food, beverages, select Pro Shop merchandise or same day replays booked at the course.
• Carts included
• Prices are per person
• Price does not include lodging but it is available
• Contact Myrtle Beach Golfmasters for details or questions.
• Prices for East Coast PGA 4 Special are subject to change without notice.

For more information or to book please call 888-947-3275 ext. 3 or visit Fore Travel Golf